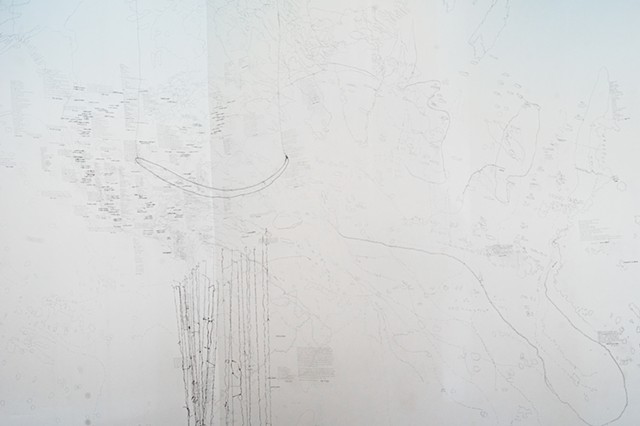 "You are the result of the love of thousands"
ink and graphite on walls, wires, found strings, fishing nets, and sea grass
July 2018
During the month of July, people from the Bay Area and around the world participated into this project telling me:
-where they come from, or any place they feel more connected,
-poets/poems/writers from these places (or from anywhere around the world) that have touched them.
The above data was transformed into a drawing, a loose map, taking over the front gallery of Chandra Cerrito Contemporary. After research, coordinates of the given places along with poems/quotes from the authors were written on the walls. Numbers, letters, lines, and dots created a universe alongside with hanging sculptures which physically manifested the connections between places and people as diverse materials gathered from my trips around the world were used.
Seen here: part of the wall drawing with sculptures made of wires, found strings, fishing nets, and sea grass.
Photo by Takako Matoba